REGGAE ROCKERS
Bassbin Twins VIP Review Loopmasters "This one's a 'best in genre' for me. "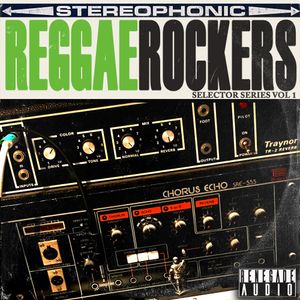 All the flavours of classic and modern reggae vibes ready for the sound system arena.


A combination of live organic and electronic grooves - these are sounds that weave together that special sonic feel of traditional roots reggae backed by heavy drum and bass grooves heard in so many of today's musical styles: steppers, dubstep, trap, grime and more. Push the tempo up a little to hit that classic 90s jungle of 160bpm and even further to reach today's Drum & Bass 175bpm mark. The loops are locked in and ready. The variety of layers and sounds will add depth and character to any production.
Inside you'll find organ bubbles, guitar wah-wah skanks and riffs, Rhodes skanks and pads, pianos, horn riffs, congas grooves, tambourines, bongos, vocal shots, thick bass tones, hammering drum grooves, anthemic horns, hypnotic percussion and more. Build a track from the ground up or layer in bits and pieces to add a rich flavour to your productions.
 
Genre(s): Reggae, Dub, Rub-A-Dub, Dancehall, Steppers, Jungle
Tempo: 140 BPM 
Size: 1 GB  (499 Loops & 219 Oneshots)
 
REGGAE ROCKERS REVIEWS: 20 5-STAR REVIEWS

Bassbin Twins: 10/10 
There are other dub / reggae packs but this one Really dials in the authentic vibe and shines on every level.  These particular one shots are tools for saying a lot with very little and the loops are All cause for instant skanking.  The processing which makes this pack so special is executed in unusually confident strides: filtering, delays, and various low fidelity treatments render these sounds a joy to compose with: there's an innate "place" for these parts to sit within a mix.  This one's a 'best in genre' for me.  
Tom Middleton 9/10
A rich and diverse pack full of authentic elements to set the tone and provide the background and foreground to a variety of Reggae-centric directions. This could be used across multiple genres using a creative sampling approach. And the high production values mean instant gratification. Recommended.
Future Dub Orchestra 10/10
Whenever I see a new pack from Dubmatix, it's always top of my list to check out. Bringing you the sounds of Renegade Audio, if your serious about Dub & Sound system Culture, this is the real deal. Authenticity is a priority in this genre & Dubmatix is one of the true masters in this art form truly inspiring. So when you first explore this pack you get: A Loop Folder, From Bass, Drums, FX, Guitar, Horns, Keys, Percussion, Synths & Vocals. You also get One Shots folder, which gives you the building blocks to put into your favourite samplers & construct your own Dub / Sound system arrangements. I really hope Midi & Sampler Instruments are included in any future packs, as this would be a complete audio tool kit. The quality is outstanding but not surprising, with so much detail & the sounds are truly excellent. What I really like is the timelessness of Dubmatix sounds, but also can be genre defying which gives you the ability to export other possibilities in your musical dub exploration.
Jason Nivens 9/10
Nice size set of Reggae sounds and loops from Renegade Audio. You can use these to get that authentic Dub & Skank sound on a variety of vibes from Reggae (obviously) to EDM to Trap. Everything is at 140 bpm, but you can stretch it down in tempo or do half time to use on what you want. Horns, guitars, pianos, organs, bass, drum loops and single shots , vocals and fx. The variety is great and the quality as well, plus lots to choose from. What I really like about this set is that its got an aggressive Reggae feel rather than more of a typical laid back approach...very cool.
 
---
BREAKDOWN (WAV FORMAT)
 LOOPS
 

#

ONESHOTS 
 #
Drum (Individual and mixed)
198
Drums (***)
60
Bass
46
Bass
17
FX
8
FX
19
Guitar
40
Guitar
18
Horns
38
Horns
13
Keyboard (*)
54
Keyboards
32
Percussion
63
Percussion
15
Synths (**)
26
Synths
12
Vocals
28
Vocals
18
TOTAL LOOPS 499
 
 
 
TOTAL ONESHOTS 219
 
 
 

* Keyboard Loops include: (Wurli, Organ, Piano, Clavinet, Rhodes, Farisa)
** Synth Loops include: Bass, Pads, Leads, Skanks
*** Drum Hits include: Claps, Crashes, Hihats, Kicks, Snares, Toms
GEAR USED:
Roland RE150 Space Echo, Roland RE-20 Space Echo, Roland Chorus SRE-555 Echo, Korg Minilogue, MoogerFooger, Traynor TR-2 Spring Reverb, BOSS Digital Reverb, Yamaha MOTIF, Warwick & Fender P Bass, 1986 Stratocaster, Gretsch, Epiphone Guitars + Various 60s Japanese guitar oddities, Ibanez Harmonics HD1000, Neuman U87, Yamaha Gro-112 II Tube Guitar Amp, Gretsch Jazz Drum Kit and Ludwig Breakbeat Drum Kit.