Chopstick Dubplate presents Jungle Soundclash Vol 1
Chopstick Dubplate presents Jungle Soundclash Vol 1
$23.00
Save 47.83%!
$12.00
Chopstick Dubplate presents Jungle Soundclash Vol 1 Label: Renegade Audio Catalog#: RA-31 Genre(s): Jungle / Drum & Bass Tempo: 175BPM Pack Size: 1.5GB (Total Loops: 500 | Total Oneshots: 320)
Read more…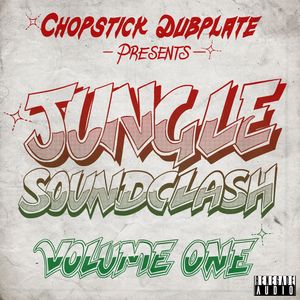 Label: Renegade Audio
Catalog#: RA-31
Genre(s):  Jungle / Drum & Bass / Dub / Reggae
Tempo: 175BPM 
Pack Size: 1.5GB (Total Loops: 500 | Total Oneshots: 320)

Push up your lighter in the air!
Renegade Audio is proud to present
Chopstick Dubplate Jungle Soundclash Vol 1
You've seen the Chopstick Dubplate name in the Drum'n'Bass / Jungle scene for over two decades and now, for the first time, you can create or layer in some of Jacky Murda's iconic sounds into your own productions.
Diving deep into the vaults of some of the most recognized dancefloor smashers comes Jacky Murda's on-point, sub-heavy jungle rollers all packed into Chopstick Dubplate presents Jungle Soundclash Volume One of a series. Inside the pack, you'll find Drums (full kits/grooves), Drum Fills, Basslines, Musical Skanking, Riffs, and FX, plus a solid array of Oneshots so you can build out your own bangers.
NOTE:
1. Drum Grooves are complete kits. There are no separate parts (i.e. just kick, snare, hihat or tops)
2. Alt = added stutter and bits for additional flavour and groove
3. The core pack is approx 425MB + 1GB of bonus FX versions
---
VIP Review Celt Islam 10/10
Junglist massive! Oh my dayz! now this is a mega take me back to the junglist days ! Now there is many a junglist sample package out there but this is next level accuracy! The drums totally epic! that real old school ripping apart that Amen break is perfect sound quality and mesmerising twists any junglist will totally love! Basslines are DREAD!! rolling descending sub basses just what you need for that true Jungle sound and comes with some amazing synths and reggae chop loops one could not ask for a better package when it comes to the original sound of Jungle!
---
ABOUT CHOPSTICK DUBPLATE
Founded by Jacky Murda in 1998, Chopstick Dubplate kickstarted the ragga-jungle revival with a new formula: recording foundation Jamaican vocalists on jungle versions of classic reggae riddims, which eventually became the blueprint followed by the modern ragga-jungle community.
   Chopstick's trademark sound is a combination of catchy reggae music dubbed with a positive jungle flavour, and an exuberant performance style similar to a traditional soundsystem. Jacky has been called 'The Rodigan of Jungle', for his performance style and long history of collaboration with Jamaican artists. 
   Originally cut on Jacky's in-house lathe, the Chopstick Dubplate crate features scores of Jamaican and UK artists and is filled with hundreds of specials
https://chopstickdubplate.bandcamp.com/
https://www.instagram.com/chopstickdubplate/
https://open.spotify.com/artist/1llsKlMeU35w7oct8C2pxI
Loops Oneshots
Bass 34 (core + 68 FX) 29
Drums 94 (core + 65 FX) 60 (core + 60 LoFi)
FX 37 (37 FX dubbed @ 175bpm) 49 (core + 49 Lofi)
Music 35 (core +130 FX) 36 (core + 36 Lofi)