DREAD HORNZ VOL 3
Dread Hornz Vol 4
Tempo: 71-145 BPM Size: 2.8GB (788 Loops | 108 Oneshots) - Ska, Roots, Modern & Steppers
Read more…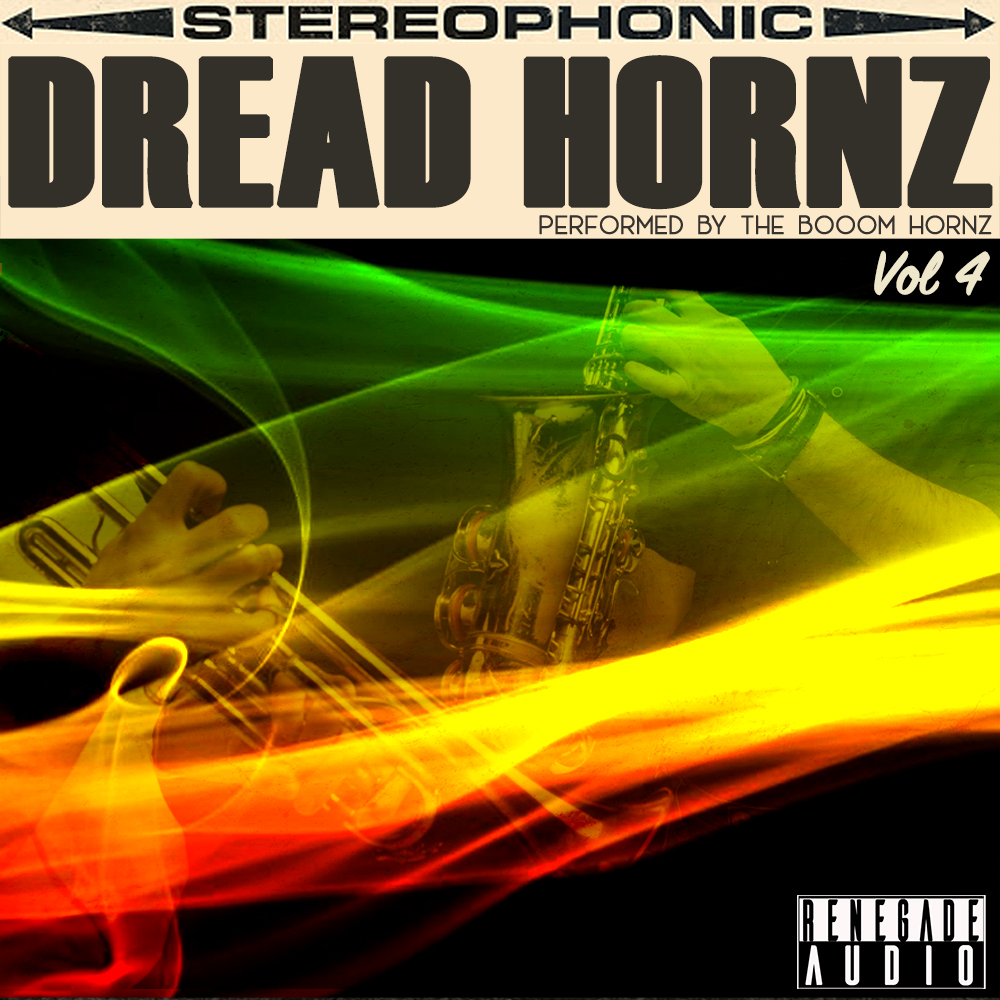 Dread Hornz Vol 4 is back again with a fantastic collection of horn sections, individual instrument parts, riffs, and solos in a variety of styles - ska, roots, steppers, and dub.
 Volume 4 continues in the tradition of the previous 3 releases with more classic '70s horn-driven reggae recordings of Jamaica heard on so many legendary songs from Studio One to Channel One, from Marley to Burning Spear but also introduces Ska for the first time, and modern steppers. 
This pack offers 2 minor and 2 major key songs that include the main Themes as well as various riffs you can drop into any production. 
Performed by the Booom Hornz, Dread Hornz Vol 4  contains 4 song folders. Each song folder has multiple horn lines and riffs. Created for maximum flexibility and usability the pack includes Horn Sections (Trumpet, Tenor Sax, and Trombone) along with each instrument provided separately. You'll have the original "Dry" recordings,  and as a bonus, we've included several FX versions: Dub (Tape Echo Reverb/Delay), Echo Version Only, Spring Reverb, Plate Reverb, and LoFi - all to help provide flexibility and inspiration for your tracks.  
The oneshots include : stabs, sustained notes, swells, chords, short riffs
____________________________________________________________
Performed by the Booom Hornz
Cédric Munsch aka Tribuman is a trumpetist and trombonist from France. After studying at the Faculty of Musicology and the Music Conservatory in Strasbourg (France) he started working with producers (Reality Shock Records, Dubmatix, Undisputed Records, Not Easy At All Productions, Jahsolidrock Music...). Tribuman writes, records, and does arrangements for many international reggae artists like Apple Gabriel (Israel Vibrations), Brinsley Ford (Aswad), Tippa Irie, Earl16, Macka B, Fred Locks, Naâman, iLLBiLLY HiTEC, Midnite, Junior Murvin, General Levy, Omar Perry, Glen Washington …
Romain Pivard aka Mux is a saxophonist who studied improvised jazz music at the Music Conservatory in Strasbourg (France). He teaches saxophone, jazz, improvisation and collective practice in music school. He performs with different bands and musical styles from jazz (Razul Siddik Quintet, Sumbur), to hip-hop (Art District), passing by funk (Enneri Blaka), reggae (Naâman) or dub (Dubmatix Live Band) on stages in France, Switzerland, Belgium, Germany, Czech republic, Netherlands, Estonia and Latvia. Moreover he collaborates with different artists on studio recordings worldwide.
Together under the name Booom Hornz, Tribuman & Mux recorded the horns for Naâman, Courtney John, J&B Kings, Dubmatix, Chezidek, Micah Shemaiah and more. 
They've also recorded for the English label Reality Shock Records for artists like Solo Banton, Errol Dunkley, King Lorenzo, Mickey General and Christian Cowlin (FOH/ Sound Engineer for The Wailers since the 90's) and on different projects including Bob Marley Tracks Project, with some original Wailers and I-Threes.
Gear Used: Benidub Filter Benidub, Moog Filter, Benidub Echo, UAD Roland Space Echo & EMT Plate Plugins, Soundtoys.