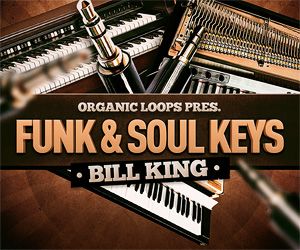 TOP 5 BESTSELLER

PURCHASE LOOP PACK (Loopmasters)
(Demos available when you click through) 
VIP REVIEWS
Veteran keysman King (Aretha Franklin, Janis Joplin, Pointer Sisters et many al) offers up 470 organs, piano, clavinet and harpsichord loops. Most are presented dry and in multiple processed versions, many of which come across as filler - although there's more than enough material overall to overcome that. We wish there was a lot more Rhodes to offset the hard edges of all those organs and clavs. King's playing is brilliant, and his wantonly funky tinklings would be at home in all kinds of music, making this a unique library that all should hear. 
Computer Music Magazine Verdict: 9/10
---
Organic Loops are very excited to present Bill King Funk and Soul Keys – a timeless collection of iconic Keys from a man whose production credits include Janis Joplin and the Pointer Sisters. Provided for you 100% royalty free, this is the ultimate collection of Keys from one of the guys who was there in the 1960s, and stayed true to the sound.  
Bill King has toured both the east coast and west coast of America with soul bands for decades. Inspired by the music of the 1960s, including Otis Redding, the Markeys, Bobby 'Blue' Bland, Lowell Folsum and Wilson Pickett - Bill has dedicated his life to playing and producing music with Funk and Soul at its heart. He'll take you on a journey back to the days when Ray Charles was playing a Wurlizter, Booker T. Jones was on the Hohner Clavichord C, and every club had a B3 Style organ, and an acoustic piano.
Bill King Funk and Soul Keys comes with over a gigabyte of inspiring licks and short but tasty nuggets of pure soul.  As if that wasn't enough the collection was recorded and produced by Bills son Jesse King aka Dubmatix so each loop has been given the full Dubmatix rub. Expect to hear filter tweaked envelopes, fussy wah riffs and dubbed out verbs and delays. This is a collection you can dip in and out of for years to come as you discover the sonic treasure it has to offer.